Directorate is a seven year old Rank 10 kinship, formerly from Imladris, now on the Crickhollow server. We have about 25 active players. There are 219 toons on our roster, of which 130 are active, with an equal balance of male and female kin members. Many of us are older players but our defining characteristic is that we are friendly, courteous, and respectful to all within the kin, and as we travel throughout Middle-earth. We maintain a kin forum with the latest news regarding Lotro, an extensive library and discussion forum, and a gallery section to post our screenshots. Many of us work during the day but at night and on weekends we are in Middle-earth. We have an active day presence as well. Directorate is an end game kin but newcomers to Lotro are welcome; we will assist you while you level. Most of us are from the United States however, we have members in Canada, Israel and Europe. We seek focused individuals who are committed to the game. We use Team Speak 3 voice communication. Directorate has an ongoing relationship with players from other kins who join us on our team speak to run raid content. To join Directorate ~ you must send in game mail to Paladiran.
By Cordovan
Community Spotlights
LOTROstreamer Eldalleth is running a twelve hour livestream on Saturday to support Extra Life! Click here for details!
LOTRO Media is a new player-run web site featuring your screenshots and more! Click here to learn about it.
Sabs is streaming LOTRO regularly on Twitch! Click here to find the channel.
The Hookworth Harvest Home takes place in Laurelin on November 18th! Click here for more information about this role playing event in Bree-land!
The Shadow Company Band plays the music of classic British heavy metal groups in a concert on Landroval! Click here for to check it out.
The Hope bring We Are the World to the Methel Stage on November 18th! Click here to get the time and location for this Landroval event.
Polnolunie bring their lyrical and dance melodies to Laurelin on November 25th! Click here for event info.
Winterfest is Shirefest's Yuletide companion on Crickhollow, and returns for its third year in mid-December! Click here to get all the concert information.
with the subject line "COMMUNITY SPOTLIGHT"
Kin Hall
Immortal Souls is a rank 10 Kinship on Brandywine that provides a fun and family-friendly environment for people to play in Middle-earth! The Kin features experienced players and a T2 raid group. Contact Lothandal or any other officers in-game for more information!
Email contact@standingstonegames.com with the subject line "KIN HALL" to get your Kin featured

What is the best-tasting food in Lord of the Rings Online?
Fansite News
LOTRO Players News drags their kites and more! Click here for the newest show.
Squirle writes about Bingo Boffin in a new blog post. Click here to read it!
Feclez has returned to LOTROstream! Click here every Tuesday afternoon for the show!
Coiley's Adventures continue with an Elven Guardian! Click here for the latest video.
Oculos Nerd continues trekking in Moria in his latest video! Click here to see it.
GameolioDan talks to Candaith in a new YouTube video! Click here to watch it.
Morgan Jazzman streams LOTRO in Russian! Click here for the show.
Uthrandir brings the Joy of Cooking to LOTRO! Click here for tips.
Fibro Jedi streams on his Lore-master! Click here for a recent stream.
ForteMaestro has part 2 of his Academy of Music class course! Click here for a tutorial on LOTRO's music system.
Gondor has No Druids! Click here for Druidsfire's recent livestream.
AgentBrigman runs T1 Instances! Click here to see how they went.
Middle Earthlynn brings the Mayhem! Click here to watch it happen.
Let's Talk Shop!
Update 21.3 and the upcoming raid is being previewed on Bullroarer! Click here to be a part of it.
Cordovan uses downtime to do a rapid-fire Q&A on the latest +Cord of the Rings! Click here to get it.
Screenshot of the Week!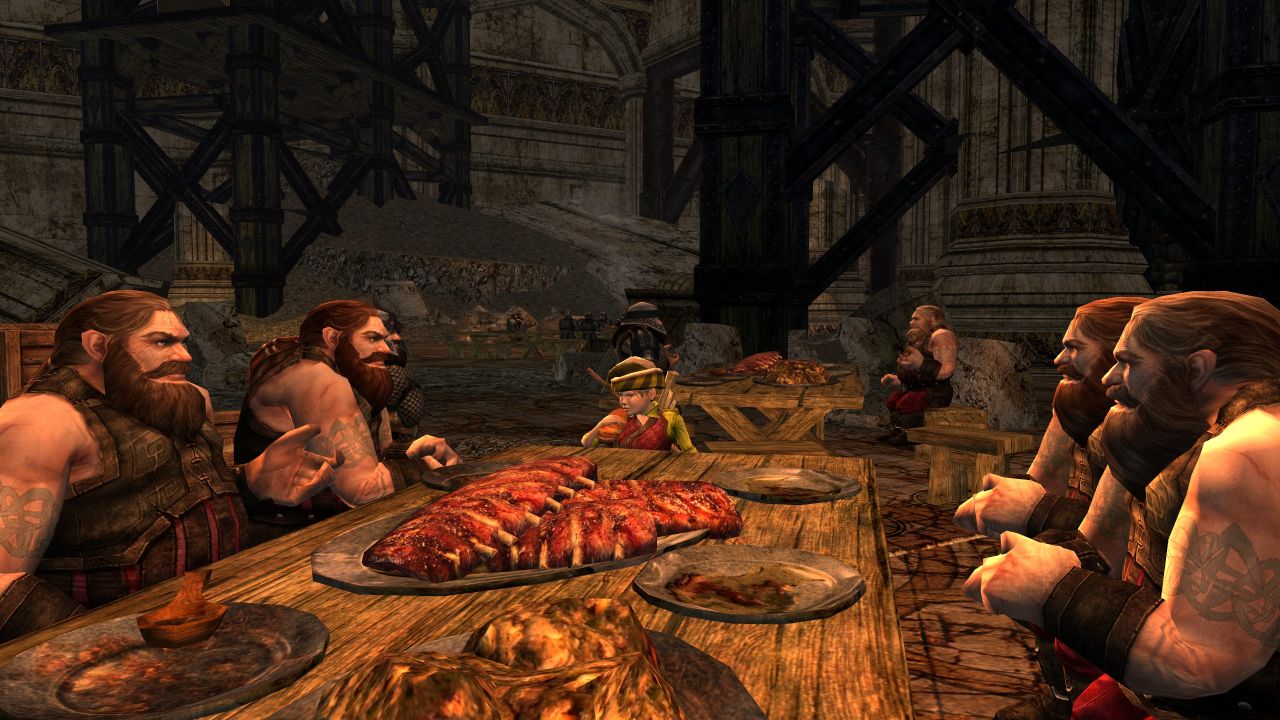 The dwarves get concerned about the stock of their larders thanks to a visit from a hobbit in this week's screenshot! Thank you Lina Willowwood for posting this on Twitter.
In the News!
LOTRO Bonus Days bring you a +25% Skirmish Boost! Now through November 19th.
Stand Out From The Crowd! Get 20% off:

Shared Wardrobe

Cosmetic Outfit Slots

the Mounted Combat Trait spec, Cosmetic Slots

Select Cosmetics

Now through November 23rd!

The Weekly Coupon gets you a free Simple Rally Horn x1 with the Coupon Code CALL2ARMS, now through November 23rd!